Voting has now opened for the 2021 Current Archaeology Awards, which celebrate the projects and publications that made the pages of the magazine over the past 12 months, as well as people judged to have made outstanding contributions to archaeology. We're honoured to have several books nominated for Current Archaeology's 'Book of the Year 2021' Award.
To find out more about the nominations and to cast your vote, read on!
---
Making One's Way in the World: The Footprints and Trackways of Prehistoric People
By Martin Bell
OXBOW BOOKS | 9781789254020 | HARDBACK | £50.00
GET 20% OFF WITH VOUCHER CODE CAL21
This thought-provoking publication leads the reader through ancient routeways – which rarely survive in the archaeological record – demonstrating the significance they may have had to prehistoric communities using historical and ethnographic parallels.
Current Archaeology said: "The narrative is a good read in both senses: it is well written and imparts a new and nuanced approach in archaeology. The multifactorial, multidisciplinary, and multiscalar approaches show us we all should be looking at routes, communication, and migrationsin a more routine way, and this applies beyond prehistory to historical periods. This book is very well written, beautifully produced, classic, and should be read as widely as a basic text."
Northern Earth said: "There is a good deal of novel thought and synthesis in this essentially stall-setting book; a research agenda that will intrigue many."
Archaeologia Cambrensis said: "This is an interesting and incredibly readable book examining the physical environmental evidence for the most basic of human needs, subsistence mobility and community interaction. The text is supported by well-chosen illustrations, it is extremely well-referenced and though descriptive in parts, it is critical throughout and delivers much food for thought."
FIND OUT MORE ON OUR WEBSITE | CAST YOUR VOTE
---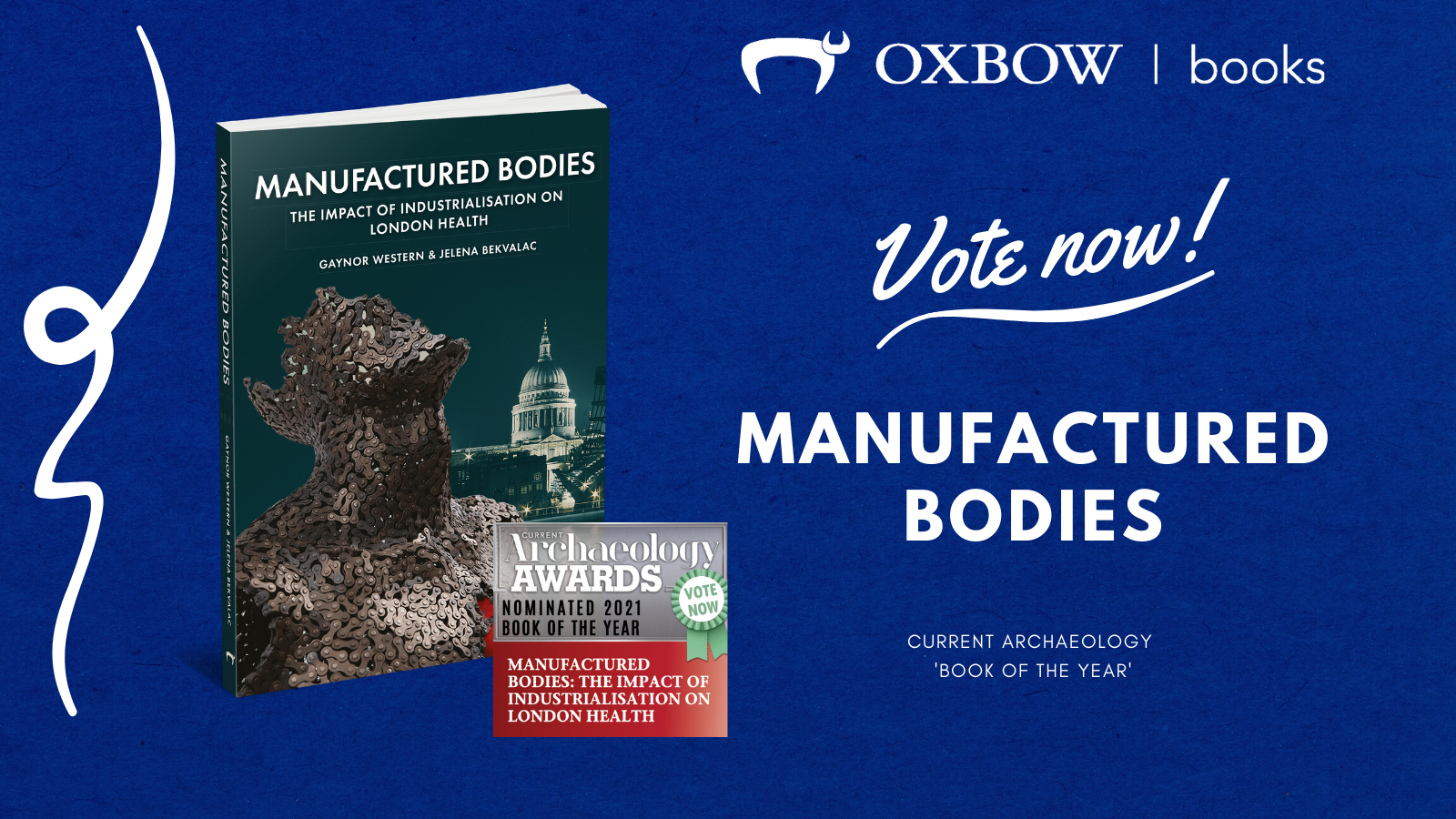 Manufactured Bodies: The Impact of Industrialisation on London Health
By Gaynor Western & Jelena Bekvalac
OXBOW BOOKS | 9781789253221 | PAPERBACK | £19.99
GET 20% OFF WITH VOUCHER CODE CAL21
This comprehensive volume weaves together archaeological, historical, and public health data, resulting in an impressive resource for understanding the health of Londoners both past and present.
Current Archaeology said: "This timely addition to Britain's industrial history incorporates a unique emphasis on modern-day population health, stressing that the hierarchical society shaped by the growing industrial machine continues to impact on health today […] this multifaceted volume is must-read for all those interested in osteoarchaeology, the impact of industrialisation, and health trends in the past and today."
London Archaeology said: "The book is highly readable with a thoughtful and direct writing style, arriving at strong conclusions […] it draws on the strengths of the Museum of London, whose researchers have a distinguished track record in this kind of integrated and accessible study of London's dead, bringing past peoples directly into the history of their city."
FIND OUT MORE ON OUR WEBSITE | CAST YOUR VOTE
---
Llangorse Crannog: The Excavation of an Early Medieval Royal Site in the Kingdom of Brycheiniog
By Alan Lane and Mark Redknap
OXBOW BOOKS | 9781789253061 | HARDBACK | £40.00
GET 20% OFF WITH VOUCHER CODE CAL21
This important report on the excavation of the only crannog known in Wales covers not only the discoveries – which include over 40,000 fragments of animal bone – but also the wider environment in which it stood.
Current Archaeology said: "The book is polished and comprehensive […] This book will no doubt be an important volume to consult for anyone interested in the late 1st millennium AD in Britain and Ireland, especially the material culture of the period."
Archaeologia Cambrensis said: "The authors have not only painstakingly assembled evidence for the construction, occupation, environment and material culture of a high-status Welsh royal residence, they have contextualised this material expertly. […] All told, this is a well-rounded, superbly illustrated, and high significant publication."
FIND OUT MORE ON OUR WEBSITE | CAST YOUR VOTE
---
The Staffordshire Hoard: An Anglo-Saxon Treasure
Edited by Chris Fern, Tania Dickinson and Leslie Webster
SOCIETY OF ANTIQUARIES OF LONDON | 9781527233508 | HARDBACK | £49.50
This is the long-awaited publication detailing the discovery and post-excavation analysis of the Staffordshire Hoard, including investigations into many of the 600 'significant objects' that form the Anglo-Saxon assemblage.
Current Archaeology said: "This is a fine book, with good illustrations, well written, and easy to read […] This is not the final word on the Staffordshire Hoard, but it is a firm foundation for decades of fascinating study and research."
FIND OUT MORE ON OUR WEBSITE | CAST YOUR VOTE
---
These awards are voted for entirely by the public – there are no panels of judges – so get involved and choose the project, publications, and people you would like to win! Voting closes on 8 February 2021, and the winners will be announced on 26 February 2021 as part of the virtual Current Archaeology Live! 2021. More details of the event to come.